Bridal Attendants
Your bridal attendants are people who are very special to you.  The number of bridal attendants you choose is entirely up to you. In today's world, nothing dictates how many you should have.  As a note though, a formal wedding usually has more attendants than a casual wedding, which usually has only a Maid of Honor. 
Remember, the number of attendants chosen by the bride can differ from the number chosen by the groom.  An answer to the uneven match would be to have more than one escort for which ever attendant is out numbered. For instance, say you have four bridesmaids and three groomsmen, one of the bridesmaids would be escorted by two groomsmen, or vice versa.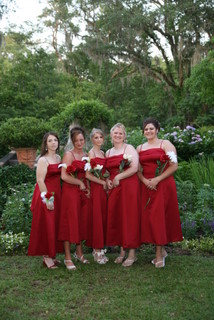 When you've chosen your dress and have an idea of the formality of your wedding, you will be ready to choose your bridal attendants' dresses. Their dresses should compliment yours or the theme of your wedding. The bridal attendants' dresses should not overpower your gown nor should they be a totally different style.  For instance, if your dress is a tea length, theirs should not be floor length.  If the wedding is formal, their dresses should not be too casual.  You get the idea. 
Another aspect to consider is if you want them to be uniformed or be able to choose their own style. It is nice for the girls to be able to choose something that they are comfortable in and that is compatible to their body type.  Let's face it, a skinny minny will not look the same as a more "voluptuous" woman when placed in the same dress.  Just keep the colors coordinated and that should be no problem.  
Having all the girls in the same dress takes a little more consideration. Be sure the big busted women are considered. You don't want those babies hanging out all over the place during your wedding.  You want to be the center of attention not your friend's boobs. (get a visual of that).

Some brides get selfish when it comes to this step; demanding a certain dress when it is a financial burden on the bridesmaid's finances. Keep in mind the financial status of your attendants and choose a dress in a price range that will not make them disgruntled.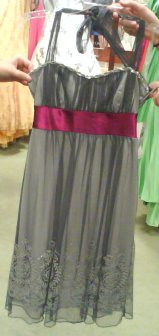 The above dress was chosen for a silver an fuchsia wedding scheme. This very cute and very appropriate dress was $40 dollars at Dillard's department store. Bide and bridesmaids alike loved it!
Choosing the color for your attendants is dictated by your theme if you are doing a theme. If not, most brides choose colors for the season or for their personal favorites. All her life my daughter loved red, and so there was no doubt her wedding should be red. Be sure to choose colors that you are fond of, otherwise, you will be disappointed in the end. When you choose the color of the dresses, you should carry the color scheme out in flowers, ribbon, groomsmen's boutonnieres or ties, and decorations for the ceremony and reception.
Your Maid of Honor can wear a different color than the other attendants if you choose. She is in a place of honor and some brides take the opportunity to dress her in something a little different to make that distinction. Just be sure the colors coordinate. You want her to blend well with the wedding party.
Dressing Your Bridal Attendants by Season
Some of the suggestions I've found for season or time of day are as follows:
Evening: royal blue, burgundy, black, navy 
Sunset: orange, coral, red, gold 
Afternoon: peach, purple, pastels
Autumn: sienna, moss, sage, chocolate, cranberry, dark greens
Summer: fuchsia, lavender, yellows, gold, light blue
Spring: pastels, pink, blue, yellow
Winter: green, red, royal blue, silver, gold

It's your wedding and you can do any color you want. Go with what you know you like.
For the bridesmaids that live out of town, be sure they get their measurements done by a professional and send the measurements to you. Don't let them order in a shop other than the one you are dealing with. Even though it can be the same name shop ordering the same dress number and color, it may be different. Dye lots ARE different colors. So ordering all the dresses from the same place at the same time will ensure they all come from the same dye lot ensuring uniformity.
Maid of Honor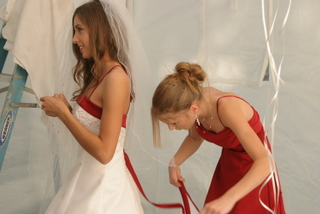 You've been chosen to be the bride's Maid of Honor; What a privilege! But along with that privilege comes a lot of responsibilities. Be afraid, be deathly afraid. Just kidding....

You are probably the brides closest friend or relative. This is an honor that most girls covet when a friend or relative has decided to take the big plunge. The bride has chosen you because you are special to her and she wanted you to know it. She is also counting on you to help her along her journey through planning the wedding day.
Here is a list of what you are expected to take on as the honored bridal attendant:
1. You will pay for your own gown. This includes getting fitted and alterations if necessary. Give yourself plenty of time; no last minute fiasco.

2. If you are asked to go along, you will help the bride choose her perfect gown. 
3. You will help the bride with the addressing of the invitations, addressing the envelopes and making favors.

4. When it comes time for the bridal registry, you will help her make her choices, and suggest stores to register. 

5. As Maid of Honor you will help with keeping the other bridesmaids organized; making sure they get their gowns and know their duties for the ceremony and any pre-wedding events.

6. Hosting a bridal shower is considered, by most, as your job too, however it is not necessary for you to take this task on alone. The bridesmaids or other close friends or relatives may want to co-host. They may even want to host it themselves.

7. All pre-wedding events are a must for you to attend. (parties, showers, rehearsal, etc.) After all, who's going to help with keeping track of all the gifts?

8. Before the ceremony, you will help the bride be as beautiful as possible by helping her arrange her veil and train and getting into her gown as flawlessly as possible. 

9. At the altar, you should adjust the bride's train and veil to be sure she looks her best. During the ceremony, you will be in charge of keeping the groom's ring safe until the appropriate time. Then you will take the bride's bouquet and hand her the ring. You will also sign the marriage certificate as a legal witness. (Any person in the bridal party that is of age can sign as a witness, if the Maid of Honor is under-aged)

10. After the ceremony, you will be a member of the receiving line and be available for all pictures requiring your presence. When it's time, you will help the bride get out of her gown into her going-away outfit (if she chooses; some couples take the opportunity to enjoy this alone time).

11. At the appropriate time, you should be prepared to give the bride and groom a toast.

12. When everything is done, you should be the one to take the wedding gown to the cleaners or to the bride's home. If you are not able to carry out this task, you should ask one of the other reliable bridal attendants to do so.
Whew! Like I said, you have a lot of responsibility that comes along with being the honored bridal attendant. It's your job to make the bride's job easier and the journey to the aisle more enjoyable.
Remember to laugh and not get overwhelmed. Listen to the bride and respect her wishes. She is, after all, the "Lady of the Hour".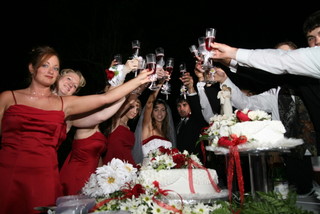 Bridesmaids
As a bridesmaid, you have been chosen, most likely, because you are a special friend or relative. Your presence should add a special touch to the wedding and you may be asked to help with wedding preparations. If you are not asked, it would be really considerate to ask if your help is needed with anything, especially last minute tasks.

Your expected tasks as bridal attendant are as follows:
1. Bridal attendants purchase their own gowns. You are also responsible for getting your dress fitted and altered if necessary. Give yourself plenty of time so that any mess ups don't lead to disaster.

2. Co-hosting the bridal shower is a nice gesture. If the Maid of Honor cannot host the shower, the bridesmaids should definitely take on the responsibility.

3. You may assist the bride with errands and pre-wedding tasks which she is willing to delegate to you.

4. If you are invited to pre-wedding events, you should attend.

5. The rehearsal is a must. All bridal attendants should be there to learn what to do for the ceremony.

6. After the ceremony, you should be in the receiving line and available for all pictures that require the wedding party.

Most importantly, as bridal attendant, you should be set on making this time as special and as enjoyable as possible for the bride-to-be. Everything you do for her as an attendant should help to make her dreams come true. 
Bridal Shower 
Want to throw the best bridal shower ever?  Make it light hearted and simple.  Most brides love a good laugh, so a funny game to play is a good way to lighten everyones heart.  
If you plan it for the afternoon, say around 2 o'clock or so, you only need cake, chips and something to drink.  This keeps the cost down considerably.  
Have plates and napkins that coordinate with the colors or theme of the wedding.  And a few nice little details go a long way.  Say a sash or pin for the bride-to-be, a unique guest book, someone snapping lots of pictures, or a framed engagement picture of the bride and groom.
Another little piece of advice...don't forget the bride and grooms moms and grandmas.  If nothing else, recognize them by saying something nice and give them seats close to the bride. 
---
---
Attire for Mothers of the Bride and Groom 

Bridal Attendants' Shoes 

Wedding Crafts and Projects 

Free Printable Wedding Charts 


---
Share Your Real Wedding Story
Do you have a great wedding story? Share your wedding planning story with us, we'd love to hear it!