Your Perfect Wedding Veil
or
Headpiece
Your wedding veil or headpiece, if you have chosen to wear one, should go well with your dress. If you have gone to a boutique to purchase your gown, the salesperson there can give you a really good idea of a veil or headpiece that would be perfect for your body and your gown. There are many choices, but the main thing is that the veil coordinate with your gown and that it flatters you, not overwhelms you as some long or very full veils or large headpieces can do to a very small framed bride. To be sure it coordinates with your gown, you should ask for a swatch of the gown's fabric in order to match its particular shade of white.
As you probably already know, there are several different lengths to be had.
*The Flyaway - chin or shoulder length
A flyaway veil instantly evokes vintage vibes.  There is nothing more elegant and simple than a feminine touch with the slightest bit of fabric.  Your beautiful face is still completely visible without any obstruction, but yet bride is written all over it.
*The Blusher or Elbow - touches elbows when arms are straight at the sides
A blusher veil may be attached to a longer veil so that it can be folded back during the wedding ceremony. The veil is not gathered to allow the veil to drape over the face and shoulders.
This is by far the most popular veil. It allows for the details of most wedding gowns to be fully visible while still giving that veiled bridal look most sought after. It is styled with lots of different edging to compliment several dress styles and bridal preferences.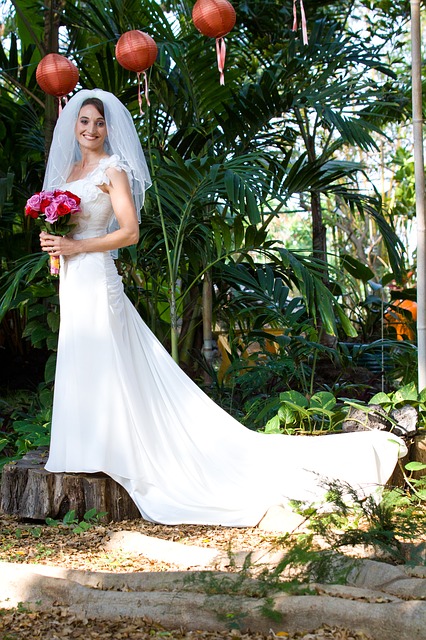 *The Fingertip - touches fingertips when arms are straight at the sides 
Coming in at a close second for the most popular veil is the fingertip. It's very popular because like the elbow length, it allows for the wedding gown detail to be seen and also comes in several different edgings.  It can be one layer or two and definitely has all the wedding vibes a bride would hope for.  
As you can see from the picture, it can also be worn lower to allow for a beautiful wedding tiara.
A fingertip veil also goes well with many different hairstyles. It will look just as gorgeous with an updo as it will with flowing curls.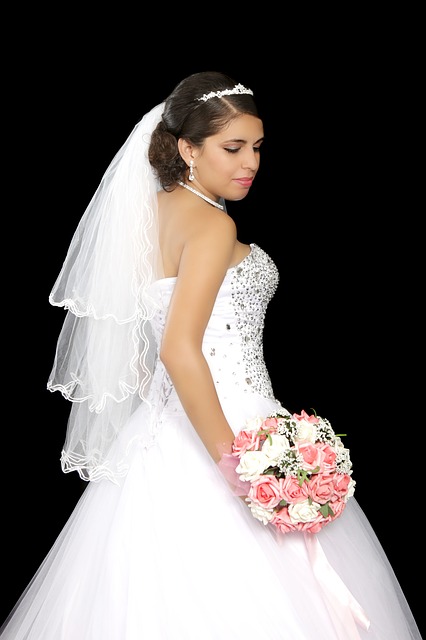 *The Chapel - falls about 2 1/2 yards (2.3m)from the headpiece
*The Ballet or Waltz - ankle length
*The Sweep - floor length
*The Cathedral - extra long trailing length about 3 1/2 yards (3.2m) from the headpiece The cathedral veil is usually worn with a cathedral train.
Longer veils are for more formal weddings. While the other length veils can be worn for any.
If your wedding is outdoors you probably don't want a train that drags the ground. It is your choice, but it isn't advised. A longer veil is best in areas that have no obstructions, like grass or sand, to catch it and make it fold and bunch as you walk. Should you decide you want that long veil and the outdoor wedding too, you might want to strongly consider an aisle runner.  Really anything smooth for you to walk on. 
You may want to wear a comb, pins or something else ornamental in your hair under your veil or headpiece so that you can take your veil off after the ceremony. They tend to get in the way while at the reception.
Or No Wedding Veil or Headpiece At All
Many brides choose not to wear veils. There are lots of other options such as tiaras, hats, hair pins, headbands, wreaths, combs, or barrettes. Just the right flower placed in just the right location can also be very nice, even glamorous.
Then again, if you just simply don't want any wedding veil or headpiece at all, that's up to you.  A great hairdo is all a beautiful bride needs.
Here's a link to some inexpensive veils and headpieces. Click Here
On my projects page, there are some step-by-step how-tos for making your own headpieces. If you are the crafty sort you, no doubt, can come up with some good ideas yourself. Making an acceptable headpiece is possible.
You can locate less expensive veils and headpieces that are samples that a store will sell for less. Some may be on clearance. Some may have been rented and are now being sold off. Sometimes there will be some listings in the local paper, perhaps look on e-bay and of course the consignment shops and thrift stores. Another option is to borrow one or wear your mother's or the groom's mother's. This adds a sentimental feel to your wedding celebration.
What ever you decide, be sure that it is YOUR choice and not someone else's. You are the bride and this is YOUR wedding, so choose something that makes you feel beautiful and happy. 

Veil or Headpiece to Wedding Flowers 
Wedding Hairstyles 
Wedding Planning Timeline 
Wedding Planning Notebook