Christmas Wedding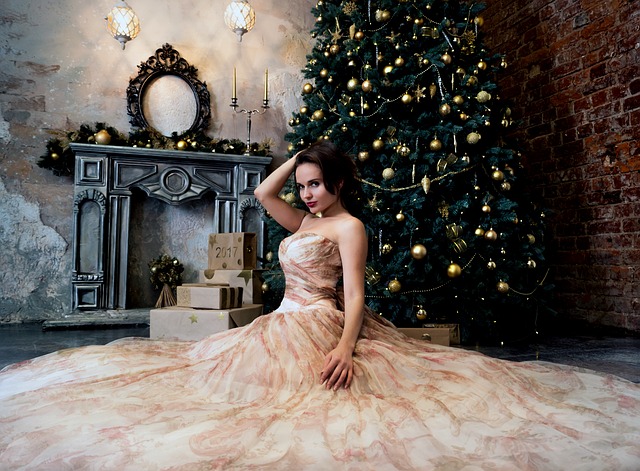 A Christmas wedding is beautiful!  Many venues are decorated for the Christmas holidays, and so, you may not have to spend any money on decor.  As you can see in the picture above, this bride uses a Christmas tree as her backdrop....something already in her venue.  The street lights leading to your venue can add to the romantic feel. I love Christmas lights!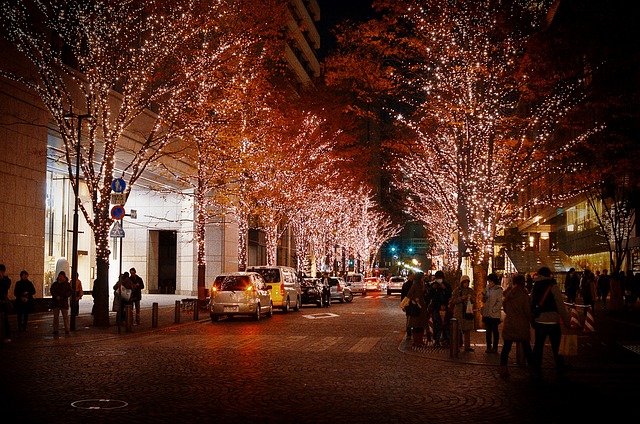 When you're setting the date for you wedding, it's probably best to not set it during the week of Christmas.  Many people have family obligations that will not allow them to attend your wedding.  Lots of people are traveling and that makes for hurried schedules already. Your wedding will be one of those things that just simply will not take priority for your guests.  Christmas decorations go up in early November and stay up until after the first of the year.  I would suggest you pick a date that does not clash with holiday plans.
I've talked to brides that love the idea of an outdoor Christmas wedding because of the beautiful snow, but if you choose a beautiful outdoor setting, remember to give your guests a "heads up" so that they can dress accordingly, and plan to have you a gorgeous cape or coat, so that you don't freeze either.  Oh, and be courteous to  your bridal party by picking dresses and outfits that will keep the girls and boys warm.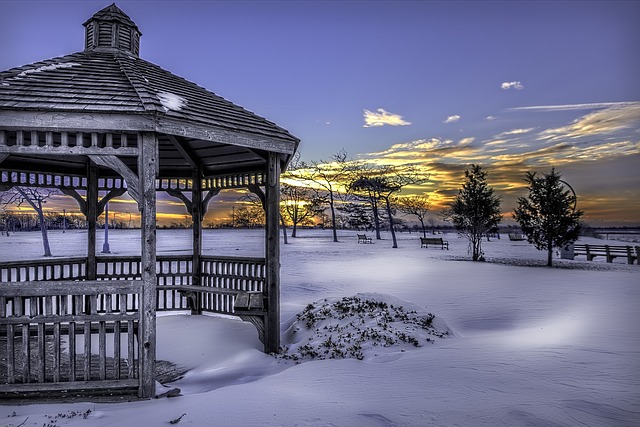 Snow is beautiful, but with it comes some extra concerns.  Please be sure to have someone escort the elderly and take precautions against slipping or tripping.  Seating should be set out with small throws or something of that sort, to stop your guests from having a frozen tush. Better yet, if the seating were made of a material that would be a little less prone to the cold, everyone would be appreciative.
---
Flowers
This is when you can use non-floral bouquets and shine.  The shimmery brooch bouquet is marvelous.  You can also use any wintery type of flower, real or silk and add a few little sprays of sparkle.  Here's a fuchsia example. She added small white snowy flowers and silver sparkle leaves. Gorgeous!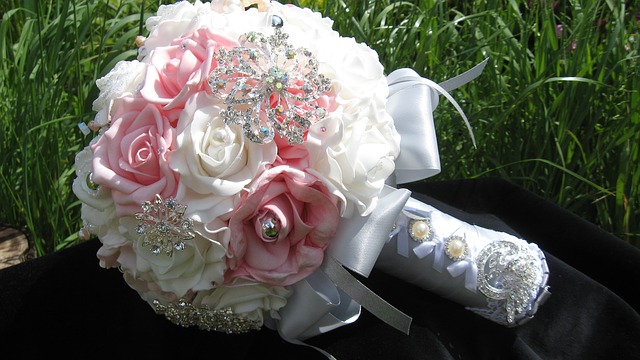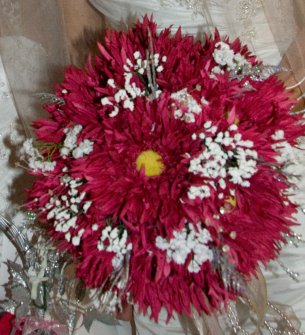 ---
Setting the Table
At the risk of sounding redundant, depending on the venue you choose, there may be table settings that you can use for your Christmas wedding.  Be sure to ask!!
If you do have to supply your own centerpieces, think shimmery. Remember Christmas is all about icy.  Or nature loving...nuts, berries, fruit, pine branches.  Here are a few ideas that may work for you.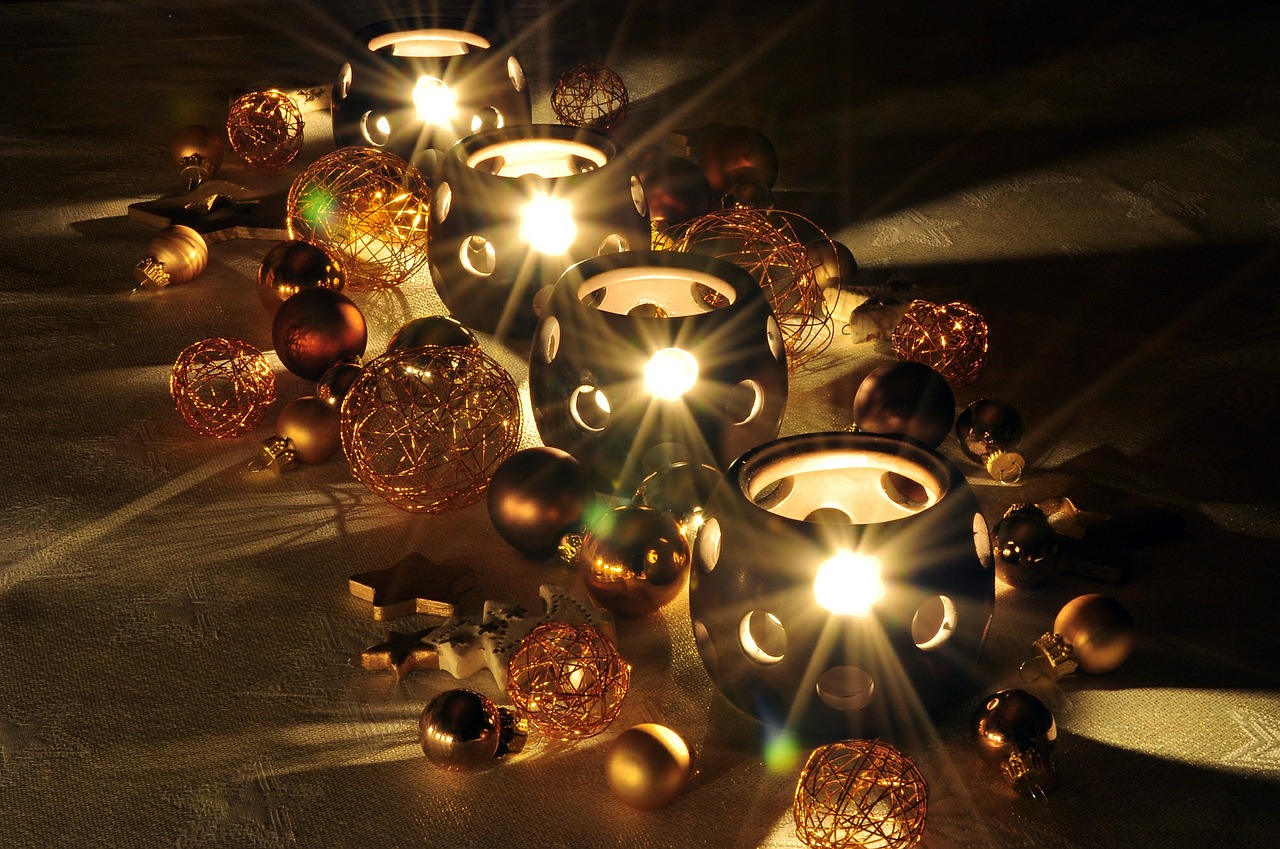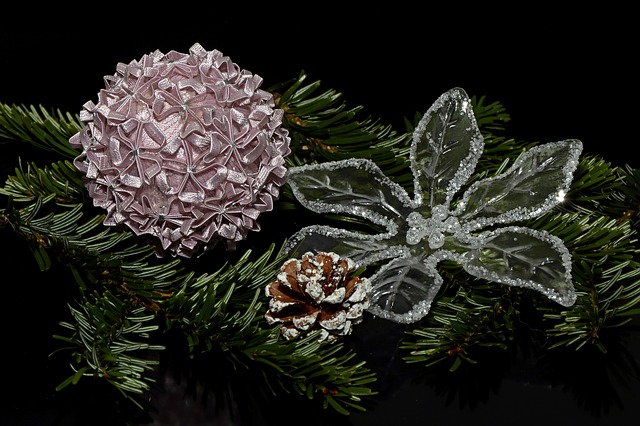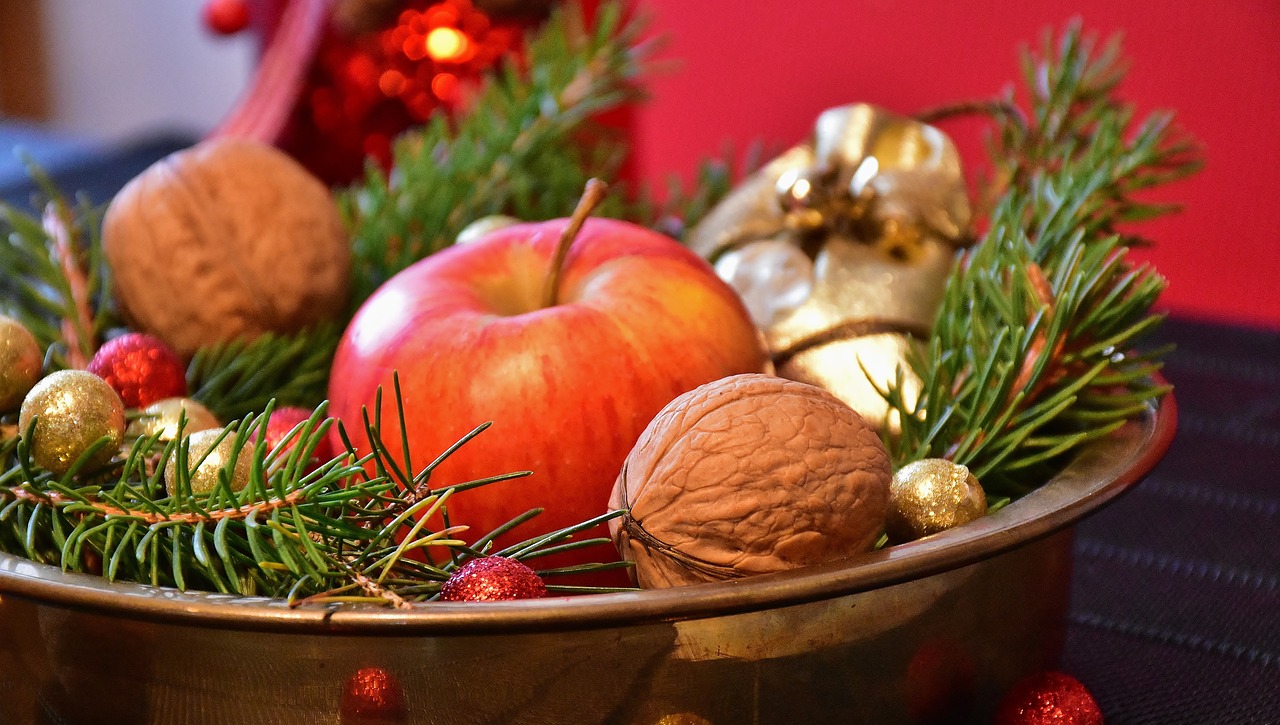 Clearance Items
If you're planning ahead, you can decorate with items that you buy after Christmas the previous year. Many craft stores, Walmart, Target, and others mark down their inventory a good bit to clear their shelves.  We've bought white string lights for $1 and the berry sprigs below for $0.25!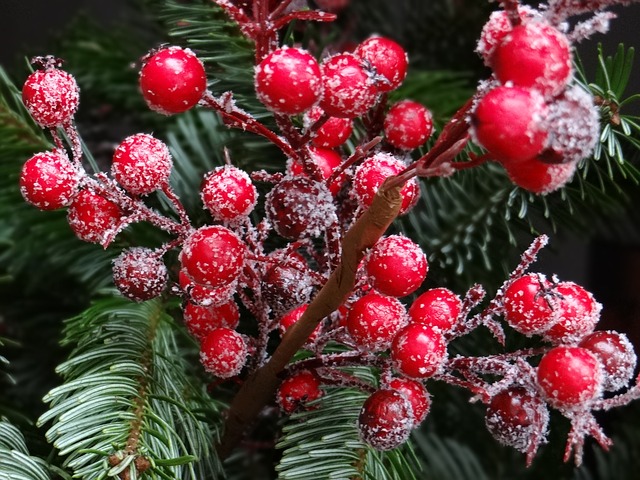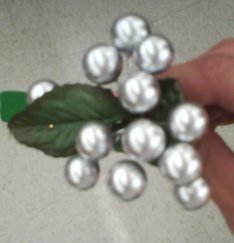 When you're searching that clearance bin, ask yourself, "What creative way can I use this?". 
Don't forget about your own Christmas decorations.  Think about what you have in that attic. (Your mom's attic, Sister's attic, Friend's?) When you start thinking outside the box you can come up with some great ideas that are FREE!  Who doesn't like free?
---
Hot Chocolate Bar
A hot chocolate bar with all the fixings is a wonderful way to warm your guests.  Bet you can almost taste it now. Set it out in an electric coffee maker or a rented urn.  Then set out lots of goodies to go with it.  Whipped cream, chocolate sprinkles, mini marshmallows, shaved chocolate, and crushed peppermint all make good additions.
While your at it, lay out some great cookies on pretty platters too. They don't have to be homemade.  Just buy some of the ones you really like from the grocery store.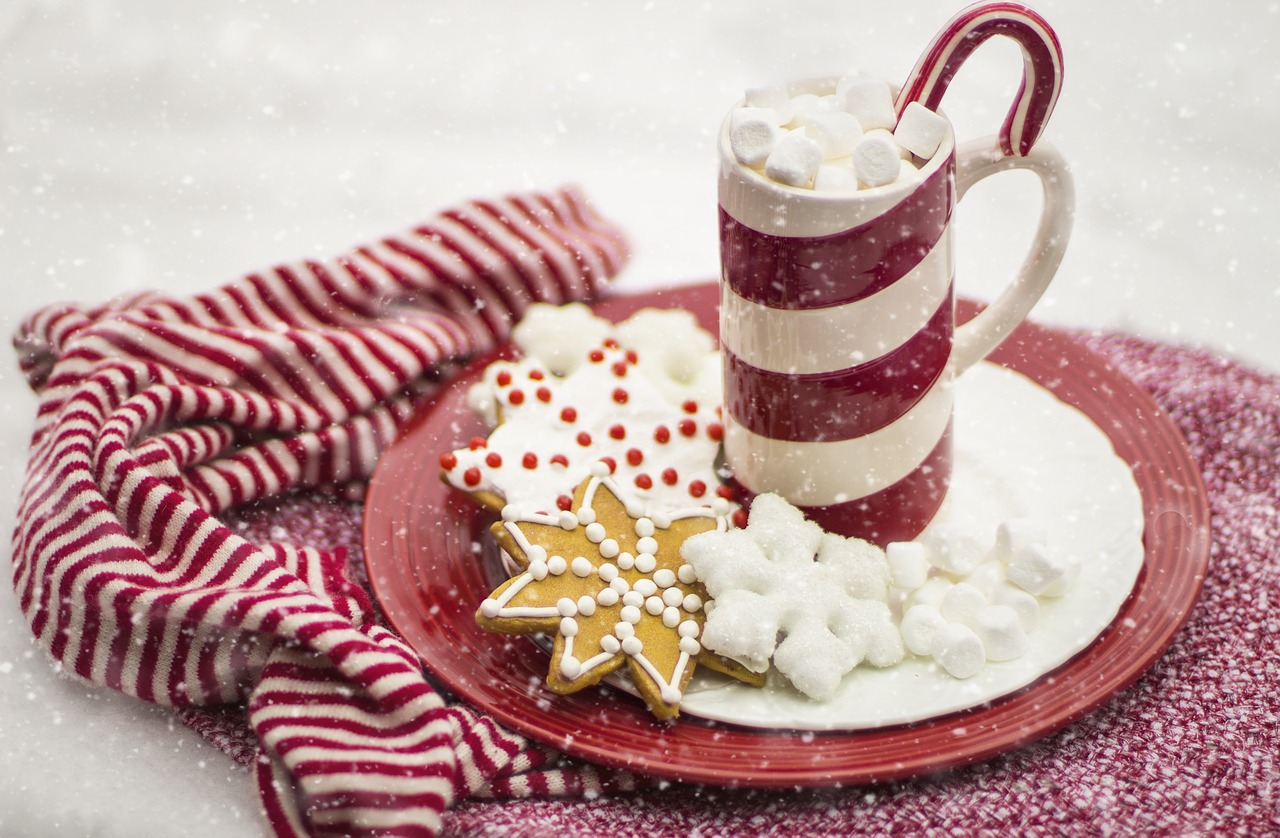 Invitation
Take a look at these invitations.  They're Christmasy and yet say wedding at the same time.  You DO want to keep the focus on the wedding and not confuse it with a Christmas party.
---
Favors for Your Christmas Wedding
Ok, so you've decided you want to give out favors, but what.  Well, for a Christmas wedding, favors can be anything warming.  With the cold everybody is thinking about being warm.
How about little sacks of tea, or jars of cocoa mix? These little sacks and the stamp can be purchased from craft stores. You can even use a sharpie marker if you have a steady hand. Just fill with tea when you're finished stamping them.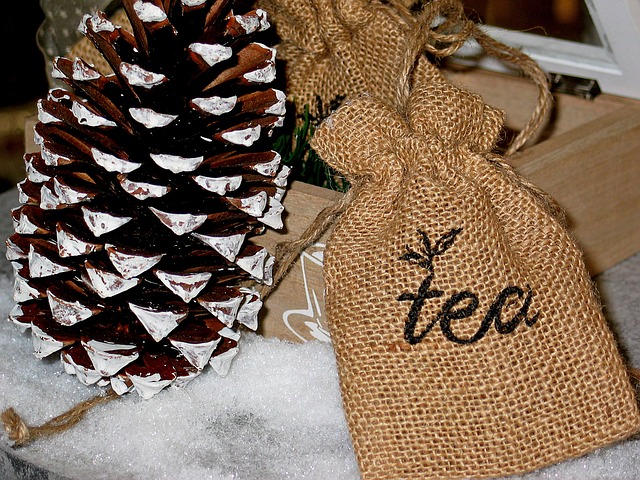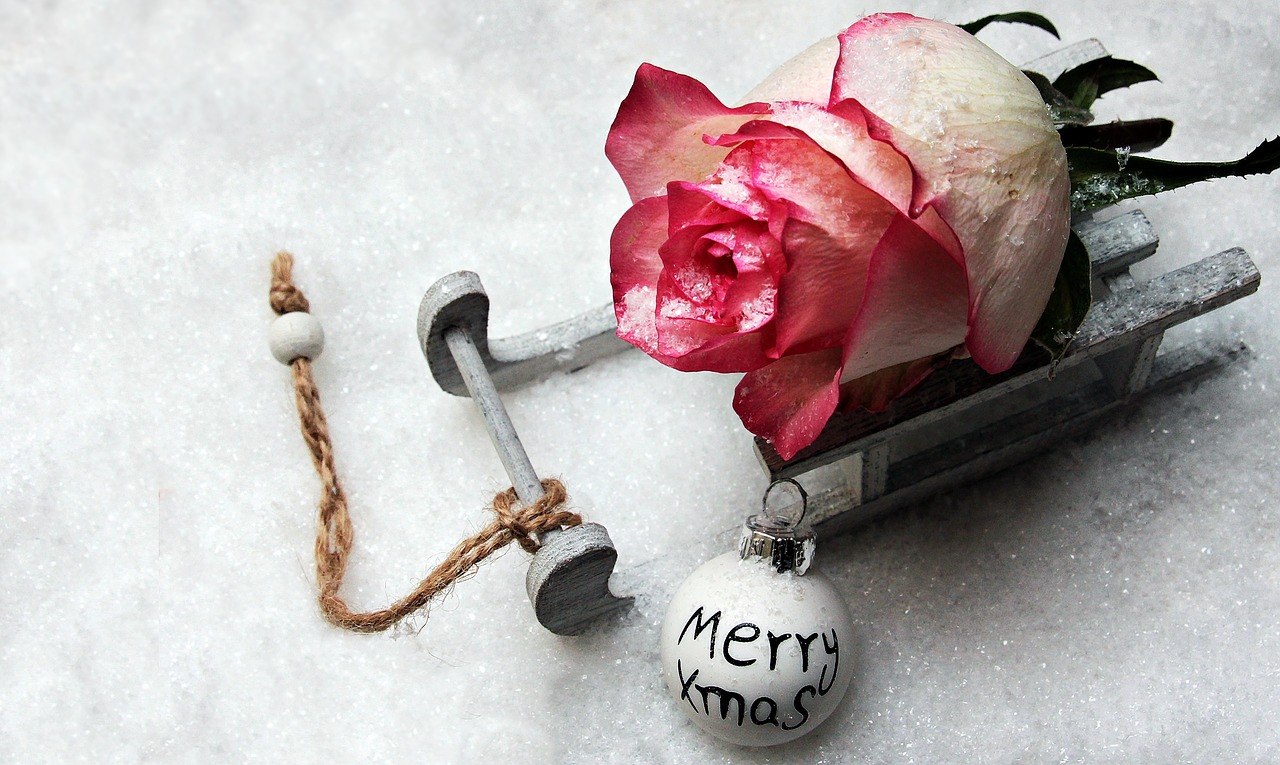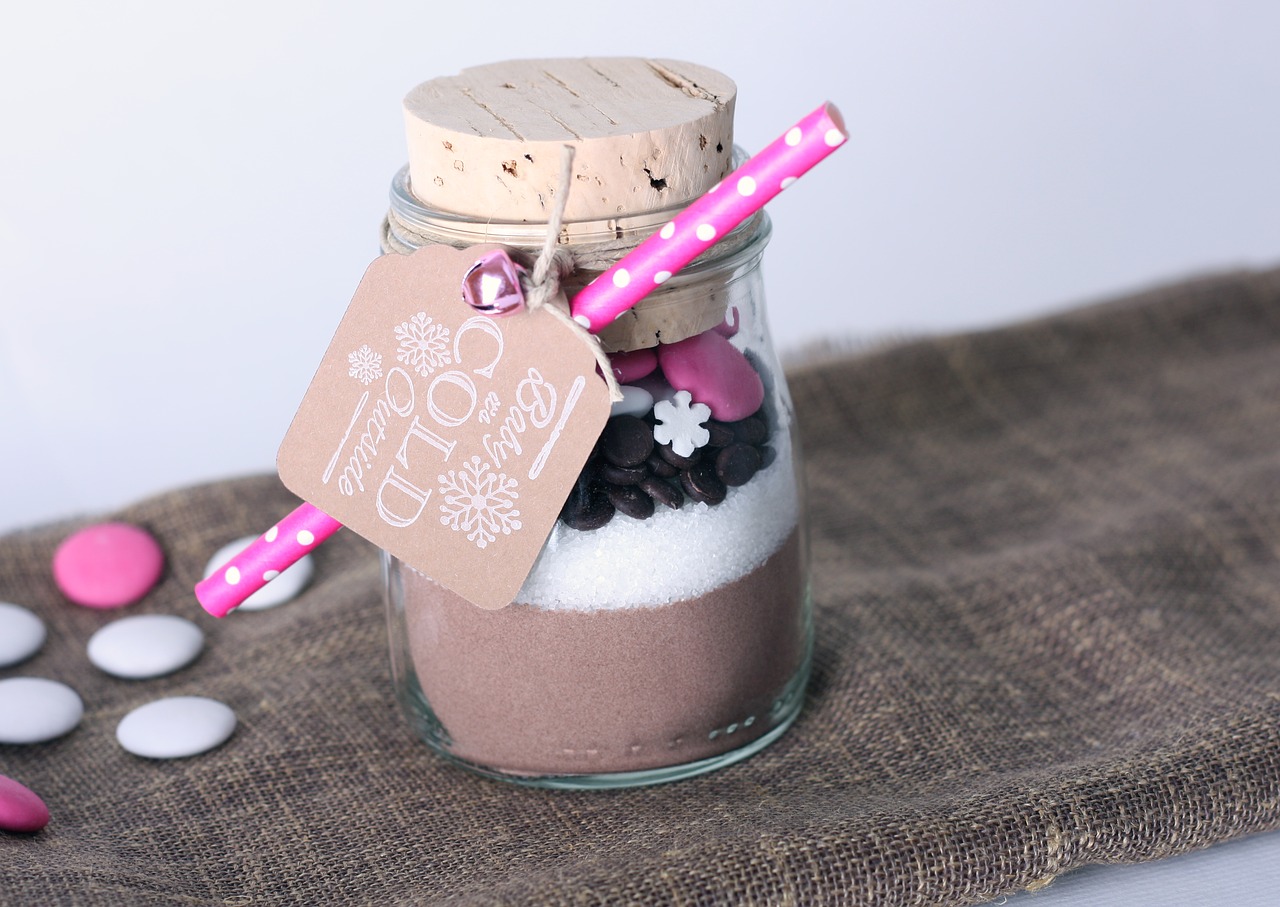 ---
Share Your Real Wedding Story
Do you have a great wedding story? Share your wedding planning story with us, we'd love to hear it!