You Need Organza
 What is the number one item used for inexpensive decorating? You Need Organza!
This is a lightweight fabric that acts similar to tulle, but is a little more dense with a slight shimmer and can be used to camouflage ugly walls or immovable furniture in a space.  You don't want your guests to see a drab venue. First impressions carry a lot of weight with your guest's experience.  It can bring that venue, whether outdoors or indoors, to the next level and WOW your guests.  Oh, and did I tell you it comes in just about any color and there are even several printed options.
Here's a few pics of some things that might inspire you.
 Draped Ladder
This ladder is an easy peasy way to use this fabric.  It's just sheer enough to look elegant, yet thick enough to show it's presence.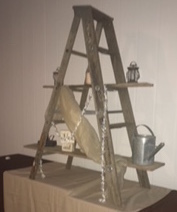 Don't you just love the way it drapes down and the slight shininess makes it just so lovely you can't help but love it.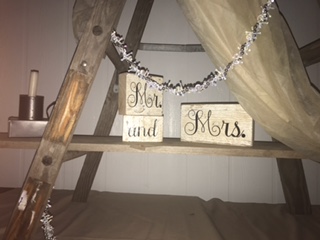 Over A Table
Oh my gosh!  I love, love, love using it on tables.  You will too!  You can use it as a runner....Draped over tables...scalloped and pinned to the table cloth for a little extra.....and as ties for the end of the tables.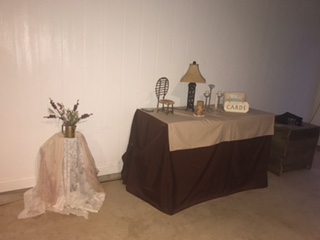 Organza Ribbon Curtain 
For this curtain we used 3 different colors of 6" organza fabric. We tied them to a piece of string that reached across the door layering them until the curtain was thick and full. For the finishing touch, we hung white curtain lights behind.  Awesome look!  And best of all, inexpensive and easy to DIY. 
It always makes for the best finishing touch on the tables.  Like around this oil lamp.  Beautiful!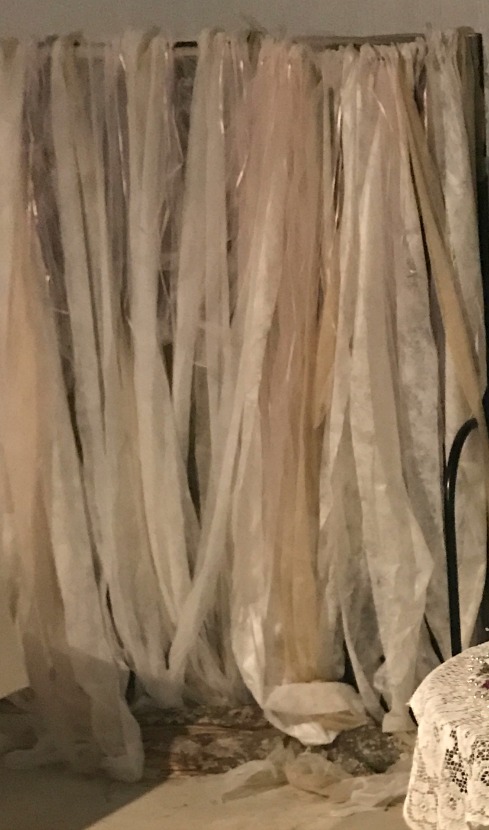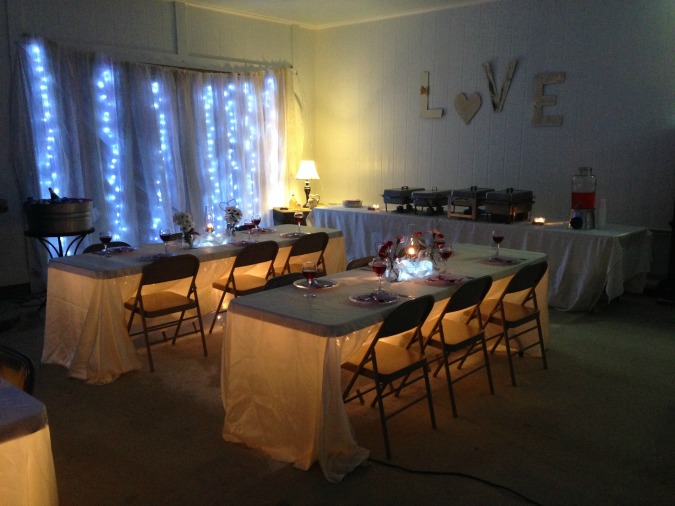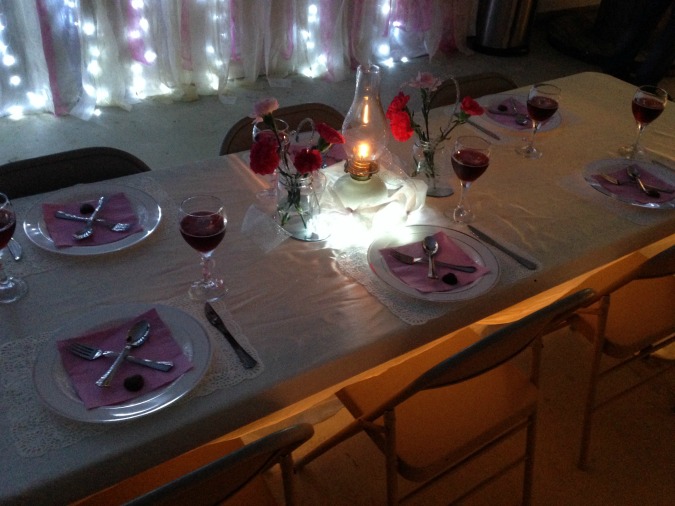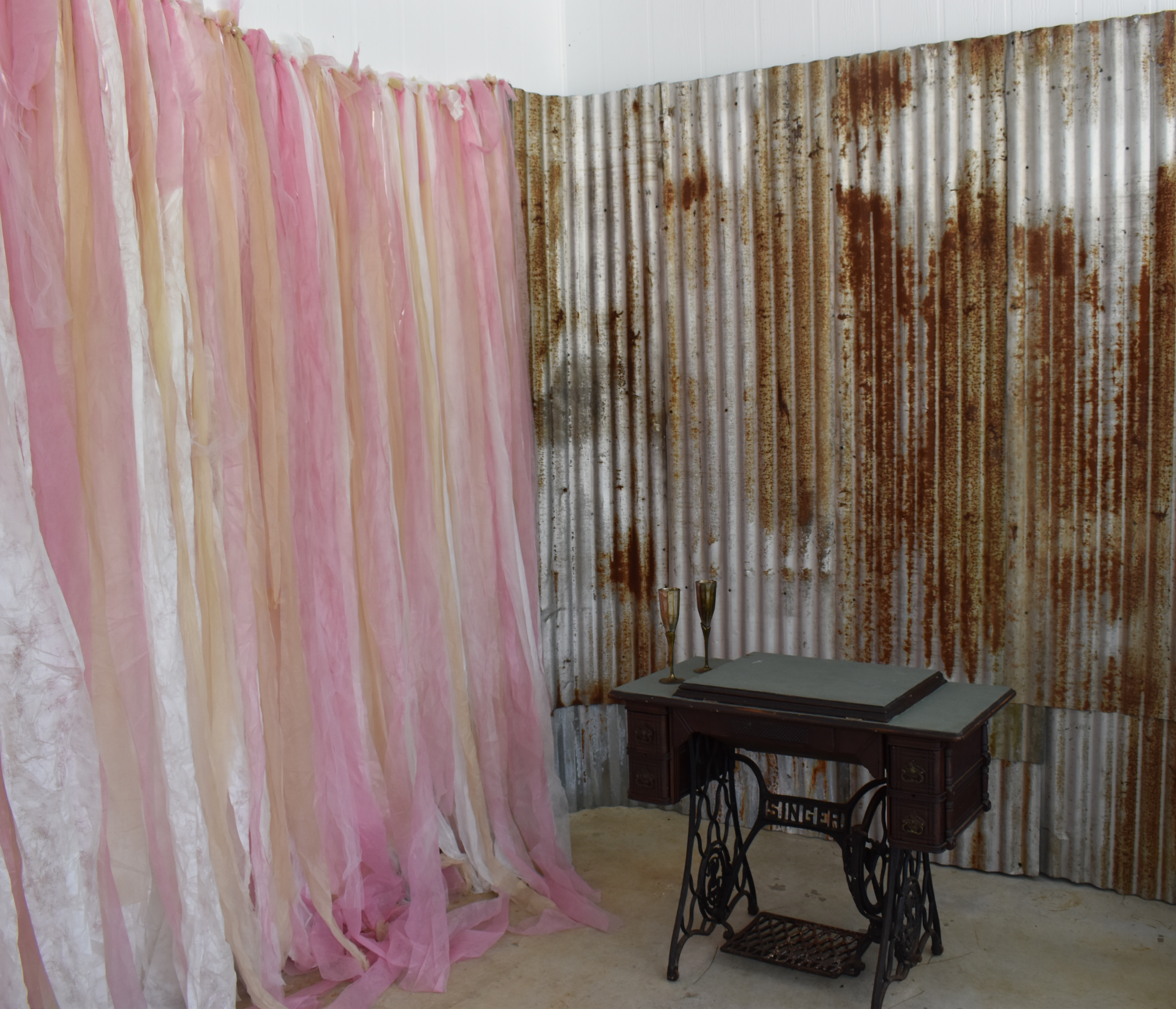 For that little extra touch to a vintage cake table corner, add a lovely organza ribbon curtain made with strips of different colors. Choose one that has a little shimmer to it to catch the light and watch it make the curtain pop.
Why not tulle?  Well, tulle can't be beat if you want something really sheer and elegant. But what if you need something more dense but still be classy? That's where this comes in.  You can use it to drape a tent post, to make streamers (really beautiful), to make bows, and to tie around chairs (nice way to reserve seats).  It can also be used in place of ribbon to line the aisle.  Extra large bows for doors are a snap.
Really....your imagination is the only thing that's required to come up with something great.  So if you want the most versatile, nice looking, inexpensive material for decorating your wedding, check it out here.
Share Your Real Wedding Story
Do you have a great wedding story? Share your wedding planning story with us, we'd love to hear it!