Answers to Wedding Etiquette Questions
I will attempt to give you some answers to wedding etiquette questions you may have, but remember I am not an expert in the wedding planning business.
One of the first questions asked is, "Who pays for what?".  Well, in today's scope of things, that answer can vary a great deal and just about any solution is acceptable.  Many couples pay for everything.  Some parents pay for everything. By the same token, some weddings are divided equally by the parents. So you see, the question of wedding etiquette does not have one set answer.  On other pages of this website you will find the answers to wedding etiquette questions that are traditional, but remember these can be tweaked and re-tweaked until the result is acceptable for your particualar needs.
Do the bridesmaids pay for their dresses and who rents the tuxes?  It is almost unheard of, and certainly not traditional wedding etiquette, to require the bride or her family to buy the bridesmaid dresses.  This is a cost that the bridesmaids incur for having the honor of being a part of a wedding party. The same goes for the tuxes. Every man in the wedding party rents his own tux.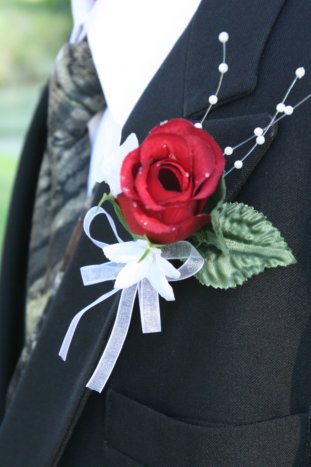 However, if the bride's or groom's family would like to purchase these for the wedding party, by all means allow them to.
Who pays for the lodging for out-of-town guests?  Again, traditionally guests pay for their own lodging.  It is courteous for the bride's or groom's family to make arrangements for lodging, or even to find the best lodging, for the best price, for the guests if they so wish.
Out of courtesy, the bride should pay for the accommodations of her out-of-town attendants, as well as the groom paying for his. Though it is an honor for them to be in your wedding, it should be an honor for you to arrange for their lodging.
You see there are many ways of handling the expenses of a wedding according to what traditional etiquette calls for, but every situation is a unique one and with variations in the plan, everyone can be happy.
Guidelines for Who Pays for What
Though these are guidelines for the etiquette of who pays for what that give a good picture of splitting things up, there is no set rule for coming up with the money to pay for the wedding. These can be swapped around or completely omitted to fit your particular circumstances. The bride and groom today are paying for more and more of the wedding and most pay for their own honeymoon. That being said, please remember to think about the financial well being of all involved. Wedding etiquette guidelines do not over-ride common sense. A wedding is not a time to go into debt, and neither is it a time for causing family feuds. Use wisdom, be flexible, and most of all be considerate.

The guidelines for who pays for what should be used when making the budget so that their is no confusion over what amount can be spent on a particular aspect of the wedding. 
---
Bride


* Wedding ring for groom
* Gifts for Bridesmaids, Maid of Honor
* Accommodations for out-of-town Attendants
* Items or Accessories that are not in the budget
* Any other expenses associated with state requirements for marriage


Groom
* The Bride's engagement and wedding rings
* Gifts for Best man, Groomsmen and ushers
* Groom's Tux
* Marriage License
* Clergy fees
* Accommodations for out-of-town Attendants
* Any other expenses associated with state requirements for marriage
Bride's Parents
* Entire cost of ceremony (excluding clergy fees & marriage license
* Entire cost of reception
* Bride's wedding gown and all accessories
* Bride's and attendants' flower bouquets,boutonnieres
* Corsages for mothers and grandmothers
* Wedding invitations and mailing costs
* Wedding day transportation
* Photographer or Videographer or both
* Personal wedding attire (father's tux, mother's gown)
* All flowers for ceremony and reception sites
* Other special items that the bride wishes to incorporate (goblets,unity candles etc.)
* Bridesmaids' luncheon
Groom's Parents
* Rehearsal dinner
* Honeymoon expenses
* Personal wedding attire (father's tux, mother's gown)
* Other special items that the groom withes to purchase
* Any other expenses that they may wish to pay for
Bride & Groom
* Gifts for parents
* Gifts of appreciation for anyone that they feel should be recognized


Attendants
* Personal wedding attire (bridesmaid dresses, tuxes)
* Any travel expenses other than accommodations
* Gifts for bride and groom
* Bridal or Wedding shower given by bridesmaids & Maid of Honor
* Bachelor party given by best man, groomsmen and ushers
---
First Steps for Planning a Wedding 

Wedding Etiquette to Wedding Budget 

Civil Ceremony 

Wedding Planning Timeline 

Wedding Planning Notebook 

Wedding Attire 

All About Your Bridal Attendants 


---
Free Newsletter